Photo 3
Photo Gallery
Here you will find the few pictures that have been taken of me
A younger me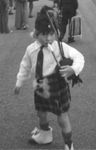 Me at the Campbell Picnic when I was just a little boy. The "bagpipes" I'm holding are made from a sticks, a toy flute, and a nurf football, my Great Grandmother made them for me.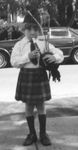 Another picture of me in my Scottish bagpiper uniform, this time I think I'm on the side walk in front of my grand mothers house.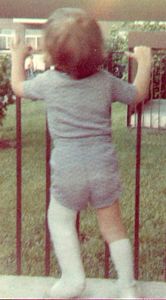 Me with a broken leg, I've been told the doctor had to replace that cast several times before my leg healed.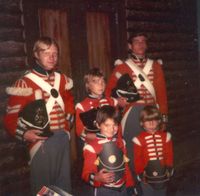 A picture of me, my older brother, and a cousin at Fort York. The uniforms we're wearing were made for us by our Grandmother.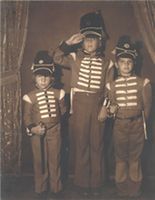 A picture taken at the CNE a long time ago, again it's me, my older brother, and a cousin in our Fort York Guard uniforms.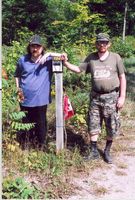 Me and a friend of mine at 6 mile lake on a Fred Victor Center Camping Trip August 2005.
Some of my movie pictures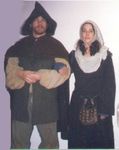 Robin Hood and Maid Marion, another picture from back stage for the movie Prince Charming.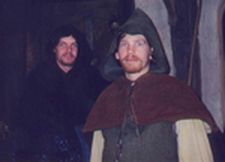 Another picture from the Prince Charming set, the guy behind me is from Glasgow, Scotland.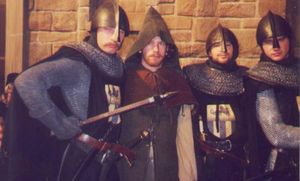 I'm on the set of Prince Charming, making like I'm Robin Hood captured by the Prince John's men.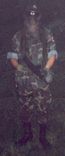 Another character I created named Sir General Casper V.C.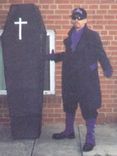 A picture of me in my Undertaker costume from WWE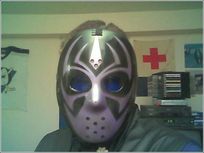 A picture of a character I created named Destroyer, the mask I found in a dollar store for halloween 2005. I added the blue lenses to the eyes, and some screen to the rest of the holes in the mask.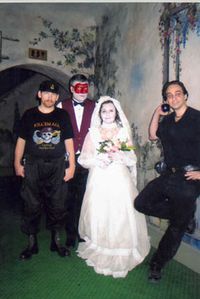 This is a picture of the White Lady ghost, the gentleman ghost, me (I'm special effects director), and my assistant director. At the Elgin/WinterGarden Haunted Theatre Tour 2005.